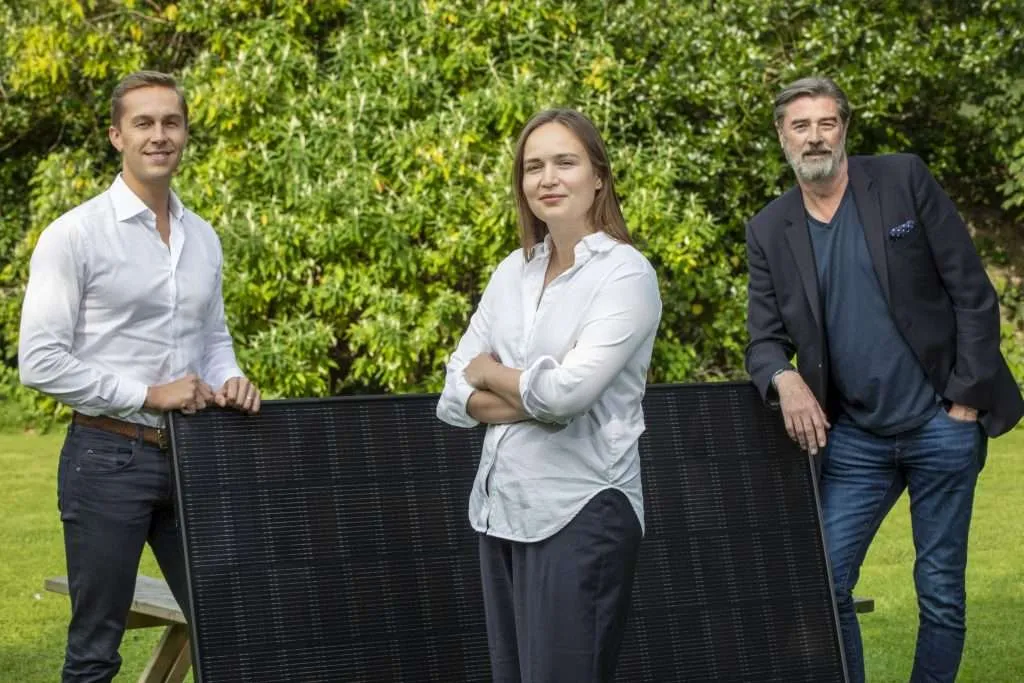 Pictured from left to right: Reed Snyder, Principal at Verdane, Fredrika Svanholm, Senior Associate at Verdane and Kevin Maughan, co-founder and CEO of UrbanVolt.
UrbanVolt, the Solar-as-a-Service market leader, has today announced a €26 million investment from leading European specialist growth investor, Verdane. This significant investment means the company has raised over €200 million in debt and equity to date, and it will further power UrbanVolt's rapid solar energy expansion in the Irish, UK and European markets.
UrbanVolt helps business customers make a cost-effective transition to clean energy with their unique 'Solar-as-a-Service' business model. UrbanVolt's model involves financing, installing, and maintaining solar panels for customers, enabling the customer to buy solar-generated electricity at ~40% lower cost than an electricity provider's rates. To ensure long-term stability, UrbanVolt locks in its rate for up to 30 years, safeguarding customers against volatile energy costs and guaranteeing a stable supply of electricity for decades to come.
Verdane's investment comes at a crucial juncture in the European solar market as panel capacity is expected to double by 2030 and more than quadruple by 2050. UrbanVolt is already the Solar-as-a-Service market leader, having signed agreements with more than 150 businesses in Ireland and the UK. UrbanVolt's clients include brewing company Heineken, pharmaceutical company Pfizer, medical device manufacturer Zimmer Biomet, and global supply chain solution-provider Syncreon.
The partnership will enhance UrbanVolt's offering for existing and future clients. UrbanVolt will benefit from Verdane's deep expertise in growing decarbonization-oriented businesses, 20 year track record of scaling European market leaders, and in-house operational expertise,n which will support UrbanVolt's mission to become Europe's leading solar energy provider for businesses.
Kevin Maughan, co-founder and CEO of UrbanVolt, said: "Securing this €26 million funding from Verdane marks a pivotal moment for UrbanVolt as we set our sights on an ambitious European expansion. We are thrilled to have the support of Verdane, a renowned specialist growth investor and fellow certified B Corp company, who share our vision for a sustainable future. This investment will not only fuel our continued growth in the Irish market but also empower us to bring our innovative solar solutions to businesses across the UK and Europe. At UrbanVolt, we remain steadfast in our commitment to providing clean energy solutions that not only drive cost savings for our customers but also contribute to a greener and more sustainable world for generations to come."
Reed Snyder, Principal at Verdane, said: "We are delighted to partner with UrbanVolt and support their ambitious expansion plans. UrbanVolt's unique approach to providing affordable solar energy solutions aligns perfectly with Verdane's focus on backing decarbonization-oriented businesses. Together, we aim to further develop UrbanVolt's offerings and bring their sustainable solutions to more businesses across Europe, driving positive impact for the environment and the economy." UrbanVolt fills a critical gap in the market, providing Power Purchase Agreements that enable the underserved SME sector to access solar energy without the burden of upfront costs. UrbanVolt raised €66m in debt finance in 2022, which enabled UrbanVolt to provide electricity at a hugely attractive fixed term rate without exposing clients to a rise in interest rates. UrbanVolt also shoulders all costs associated with the maintenance of solar panels on their clients' roofs.

ENDS
Editors' note
About UrbanVolt
UrbanVolt was founded in Dublin in 2015 by Kevin Maughan (CEO), Declan Barrett (Chief Commercial Officer) and Graham Deane (Chief Operating Officer). It has operations in Ireland, UK, the United States and eight continental European markets. Clients include brewing company Heineken, pharmaceutical company Pfizer, medical device manufacturer Zimmer Biomet, and global supply chain solution-provider Syncreon.
About Verdane
Verdane is a specialist growth investment firm that partners with tech-enabled and sustainable European businesses. Verdane can invest as a minority or majority investor, either in single companies or through portfolios of companies, and looks to deploy inside two core growth themes; Digitalization and Decarbonization. Verdane funds hold over €4.5 billion in total commitments and have made over 150 investments in fast-growing businesses since 2003. In 2021, Verdane launched Europe's largest growth-stage impact fund; since then, Verdane became a B Corporation, which is the most ambitious sustainability accreditation globally. Verdane's team of over 140 investment professionals and operating experts, based out of Berlin, Munich, Copenhagen, Helsinki, London, Oslo and Stockholm, is dedicated to being the preferred growth partner to tech-enabled and sustainable businesses in Europe.
More info: www.verdane.com
Follow Verdane on LinkedIn